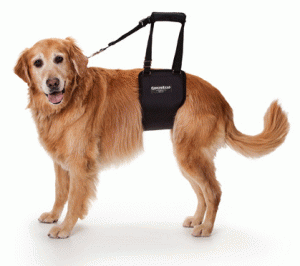 The GingerLead¹ is a soft, padded belly sling with a leash & handle to help dogs with weak hind legs walk.  Our dog sling has a soft inner lining, where it comes into contact with your dog's skin or fur, and a durable exterior.  Ideal for dogs recovering from knee or hip surgery, dogs suffering from degenerative myelopathy or other debilitating ailments, or older dogs needing some assistance getting around.  It is easily used by passing the support sling under the belly and bringing the straps, which extend from each end of the support sling, together with the attached padded handle. 
For additional control, a leash extends from the handle and connects to your dog's collar or chest harness with a snap hook, just like any other leash. The straps that extend from the support sling and the leash are adjustable.  The leash is also detachable.   
GingerLead dog slings are available in all sizes for toy to giant breed dogs and are machine washable. Our male support pad, which contains a cutout, is available in small, large and tall sizes. Male GingerLeads may also be used with female dogs.
www.gingerlead.com
---
Also in the "Friends of GDRST" section:
Upcoming Events
Oct
13
Sat
1:00 pm
Meet & Greet

@ Petco Tomball
Meet & Greet
@ Petco Tomball
Oct 13 @ 1:00 pm – 4:00 pm
Come out to our monthly meet & greet at Petco Tomball!! Our experienced volunteers can answer your questions regarding GDRST, Great Danes as a breed, how adoption works, how to get involved, etc… We will[...]
Oct
27
Sat
10:00 am
Bridgeland's 10th Annual Howl-O-...

@ Josey Lake Park
Bridgeland's 10th Annual Howl-O-...
@ Josey Lake Park
Oct 27 @ 10:00 am – 4:00 pm
The 10th Annual Howl-O-Ween Fest is set for October 27 from 10 a.m. – 4 p.m. at Josey Lake, Bridgeland's newest amenity,  conveniently located off Bridgeland Creek Parkway between Fry Road and the Grand Parkway. Last[...]
Polls

Loading ...
Join our mailing list
Featured Video