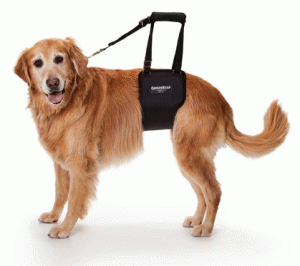 The GingerLead¹ is a soft, padded belly sling with a leash & handle to help dogs with weak hind legs walk. Our dog sling has a soft inner lining, where it comes into contact with your dog's skin or fur, and a durable exterior. Ideal for dogs recovering from knee or hip surgery, dogs suffering from degenerative myelopathy or other debilitating ailments, or older dogs needing some assistance getting around. It is easily used by passing the support sling under the belly and bringing the straps, which extend from each end of the support sling, together with the attached padded handle.
For additional control, a leash extends from the handle and connects to your dog's collar or chest harness with a snap hook, just like any other leash. The straps that extend from the support sling and the leash are adjustable. The leash is also detachable.
GingerLead dog slings are available in all sizes for toy to giant breed dogs and are machine washable. Our male support pad, which contains a cutout, is available in small, large and tall sizes. Male GingerLeads may also be used with female dogs.
---
Also in the "Friends of GDRST" section: