Although Louie wasn't a Dane that had been in our program, he and his owner, Michael Needham, are friends and supporters of GDRST.   Here is what Michael has to say about his friend who's life was cut short.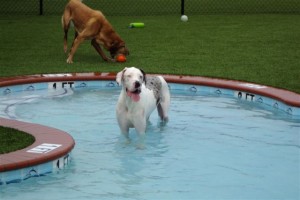 Louie, Lou Lou or Baby Boy is his name.  Louie was a rescue dog.  He was turned in at Pet Paradise due to the fact that he, a growing Great Dane, was becoming more than the owner could handle.  The manager of the Pet Paradise had asked me to find a home for him, and I agreed.  She brought Louie up to my resort later that day, and it was love at first sight.  Louie was such a handsome, and yet goofy boy.  Louie was about 5 months old when we first met.  I had three small dogs already, so I had not even considered taking on another dog until I met him.  Louie had that natural charisma that just drew you to him.  His personality just drew in everyone.
Some of my favorite memories of the baby boy are him and my Boston playing in the courtyard together at work.  Louie would run and the Boston would chase him down, and tackle him from behind.  Louie would then lay on his back while the Boston tried to bite his neck while dodging those Great Dane legs.  They would wrestle for hours every morning.  As a puppy, it was great watching him learn how to play, and also tumbling over those long legs while playing.  Then finally, after two years of trying to get Louie in the pool, we were able to get him to wade in the pool this year!  Louie loved to play in the water hose like a child.  Louie was so gentle with small children.  He would lay there and let them pet him, whether it was in the middle of a store or a parking lot he would just lay down for them and lay still.  When we first got Louie we took him everywhere with us, just trying to socialize him.  Louie reached the peak of his social skills when we lived in New Orleans.  Pet Paradise decided to participate in the Mardi Gras pet parade.  We had no clue what we were getting into, but Louie dressed up in his beads and Pet Paradise T shirt and headed off.  We started the parade route and the streets were packed with people.  There were thousands of people lining both sides of the street.  Kids and grown ups alike were all over Louie.  At times there would be 20 people petting him, feeding him treats, and taking pictures.  The parade actually stopped on many occasions because people would come from both sides of the street to see him.  Louie's size drew everyone in, and his eyes kept them adoring him.  He was amazing, so patient and sweet to each person.
Louie was such a contradiction to himself.  He was so handsome, but still so silly.  He was very intelligent, but still yet goofy.  He was a protector, but still a wimp.  Louie provided that love that is unconditional.  He has taught me so much about how to live life.  Louie showed me to enjoy everyday no matter what.  I guess to sum it all up he was truly man's best friend.  He was my best friend!
-Michael Needham