To participate simply click on the above "Donate" button.  There will be a comments section where you can type what breed you think that Colby is.  It' s that easy!
Meet Colby.
Colby is the newest handsome man into rescue!  He is a 7-10 day old little puppy who was thrown in front of a building left to defend his own little self.  A kind person found him and contacted us to see if we could help!  Even though Colby is not a Great Dane, we couldn't say no to this helpless little life!
He is thriving in foster care and getting bottle feedings every 2 hours.  He is the sweetest little guy and smiles from ear to ear.  We cant wait for him to open his eyes so he can see the beautiful world!
We are having a "Guess the Breed" Contest! For $1 donation you can guess the breed of Colby! What a fun way to get everyone involved while raising some funds to help Colby!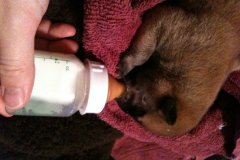 13 Photos