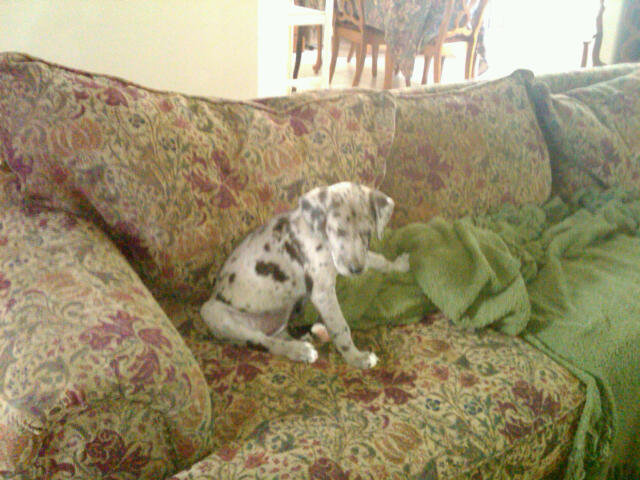 This sweet6 week old puppy came to us on June 16, 2010.  Everyone from GDRST that met her or saw her pictures immediately fell in love with her.  Over the weekend, her foster mommy noticed that something wasn't quite right with ShyAnne so she took her to the vet.  PARVO, was the diagnosis.  The vet immediately began treatment but on June 23, 2010 ShyAnne lost the battle with this disease.
We are very grateful to know that the last few happy days ShyAnne spent sitting in the laps of her humans, doing zoomies, sleeping on the couch with her foster brother Charlie, and giving high fives to the people who loved her! Her favorite food was sweet potatoes!
She knew ♥ and for that we are grateful. Thank you Mandy for being such a wonderful foster mommy to her.
If you are not familiar with the deadly disease Parvovirus, please take the time to read up on it. It is lethal to puppies and a virus that everyone dreads to hear the name of.
Run Free ShyAnne! The other GDRST Dane Buddies are waiting for you at the Rainbow Bridge! ♥ We love you and will never forget your cute smiling face!