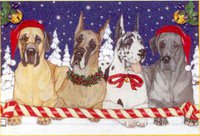 We look forward to seeing you tonight at the 3rd Annual GDRST Howliday Party at 6PM, located at Pet Paradise near Hobby Airport- This is always a fun time to come together in the holidays and enjoy a good time with our pooches. All pets are welcomed- this is not just for the Danes!
We will have several items for sale, games to play, and wonderful food!  There will be Brisket, Beans, Potato Salad, Drinks, & Dessert! The cost to attend the Howliday Party will be $5 per person.
The proceeds will go to benefit Great Dane Rescue of Southeast Texas.  GDRST had an extremely busy BUT Successful year and are proud to announce that we have taken in over 105 Great Danes for the year of 2010.  They have been restored, rehabilitated and rescued, and now are living with their new families with a new chance at life!  Not bad for a small rescue who have people with the common goal to rescue and restore Danes in need here in Houston! 🙂
We will be having the Secret Santa Gift Exchange this year again!!!!  You do not have to participate if you choose not to, but if you DO choose to participate be sure to get your card with your number at the Sign in Table.  We will be calling out the numbers in numerical order at the end of the night around 8:30 and you can retrieve your Secret Santa Gift. Please remember that if you have more than 1 pet that wants to participate you need to bring a gift for each pet participating.  The gifts will be kept to a minimum of $10 per gift!
There will also be a play area outside that the dogs can play in.  If it is cold please be sure to bring their coats! 😉 Please also take into consideration that this is a high activity play area with lots of activity so if you feel that your dog will not enjoy that type of activity or may not do well in that environment, then you can choose to stay indoors with your dog where it is warm. 😉  All dogs inside will be asked to remain on a leash.
Don't forget as well we will have some fabulous Raffle Items that will be raffled at the end of the night.  The tickets are $3 or 2 for $5.  Please stop by the Raffle Item Booth to get your tickets!  Cute stuff!
We hope to see everyone come out and enjoy a fun night with your pets!  We can not thank you enough for another great year and to the ones who support GDRST!