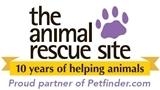 It's that time again!  Time to try to win a grant for GDRST.  This contest, for shelters & rescue organizations, starts July 9, 2012 and ends at midnight(PT) on September 16, 2012.  It's real easy and only takes a minute of your time.  Here is how it works:
Click on the purple "Vote Every Day" button on the right of this website.
You will be taken to www.theanimalrescuesite.com
Click on the purple "Click Here to Give – it's Free" button.
Click the link that says "Vote today"
Search for Great Dane Rescue of Southeast Texas
Click "Vote"
Enter the verification code
Your done!
Remember  to vote every day!  Here is a short video showing how it's done.
//www.youtube.com/watch?v=OXOq2oR-0T0&feature=player_embedded