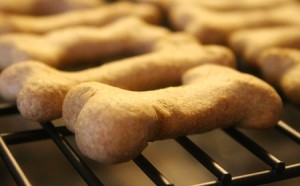 Who Ate The Cookie is a Dog Friendly Recipe Book that GDRST sells to help raise money for the dogs in our program.  You can obtain your own copy of this cookbook at any one of our Meet & Greets or events.  Here is one of the recipes from the book:
Clean Teeth Cookies
Ingredients:
3/4 cup Skim Milk Powder
1/2 cup Cornmeal
1/4 cup Bulgar (wheat)
2 1/4 cups Whole Wheat Flour
1 cube Chicken Bouillon
1 1/2 cups Boiling Water
1 cup Quick Cooking Rolled Oats
1 Egg (beaten)
Directions:
In a mixing bowl, combine powdered skim milk, cornmeal, bulgar wheat and flour, then set aside.  In a large mixing bowl, dissolve bouillon cube in boiling water.  Add rolled oats and let stand about 5 minutes, then stir in the beaten egg.  Gradually stir in the dry ingredients, half a cup at a time until well blended.  The last few cupfuls blend in with your hands.
Divide dough into 2 balls so it becomes easier to work with.  Knead each dough ball on a floured surface for about 5 minutes.  With a rolling pin, roll dough to a thickness between 1/4″ and 1/2″.  Cut with a rectangular cookie cutter and place on a baking sheet lined with foil.
Bake for 50 minutes at 325°F.  Turn oven off and let the biscuits cool for several hours or overnight in the oven.