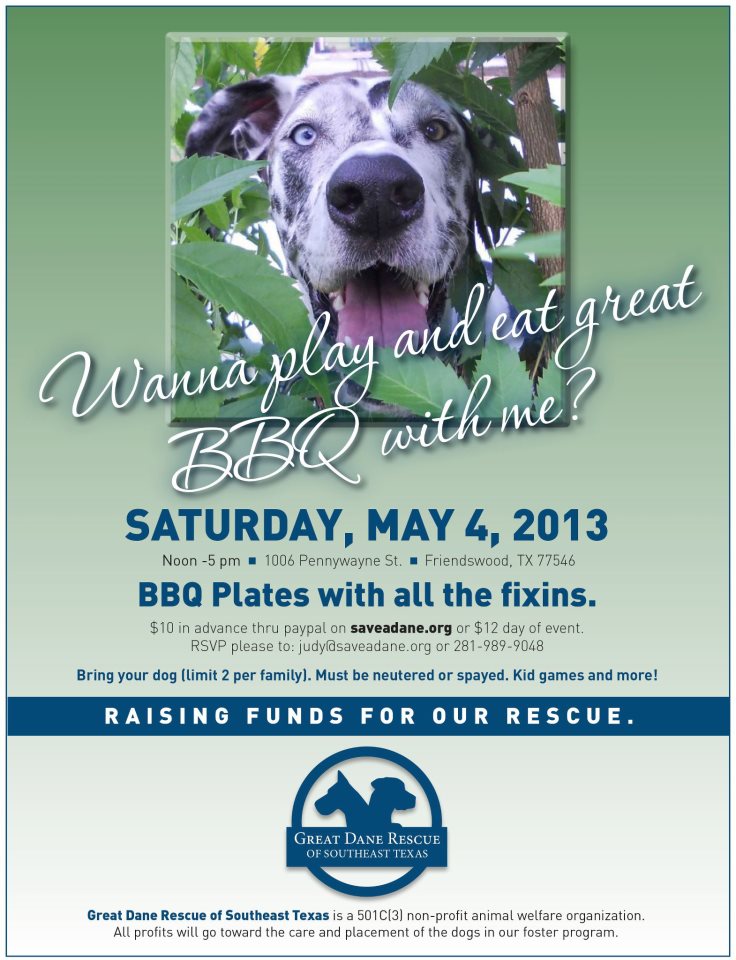 A Fun Day out in the Sun! Come join us at our annual GDRST BBQ BASH! Bobbi & Lyle have graciously offered to host at their house and host the event.
We will have lots of fun activities for the kiddos, BBQ plates for sale ( $10 in advance or $12 at the door) there will be a small silent auction, Elevated Dane Feeders for sale and most of all Danes and people alike who can get together and mingle. Danes are welcome, please only bring 1 per person or 2 per family. Proof of vaccines required and please spayed and neutered if over 6 mths of age. We ask these as this will be a big event with lots of activities going on.
PHOTO BOOTH : Setup and pics by Ananda Tiller- if you haven't seen her work, she is the one who took our ROCKSTAR Dane pic- she is awesome!
We will have doggie games, games for kiddos, swimming pools for the dogs to cool off and lots more!
PLEASE NOTE; PLEASE BRING YOUR CHAIR – OR SEATING YOU WOULD PREFER TO THIS EVENT.
PREPAY- www.saveadane.org Please CLick on the PAYPAL link- we are working on creating a hot button to click- Please comment you are prepaying for the BBQ BASH.
We hope to see you guys there and we are so excited and just cant wait!
ALL BREEDS WELCOMED: 2 per family, must be spayed/neutered and up to date on vaccines.
Please RSVP to Judy Jones: judy@17m.4af.myftpupload.com or 281-989-9048