Malcolm
This sweet boy has come a long way since being in rescue.  He has gained some much needed weight, had his severely infected tail amputated and has been working on his anxiety issues.
Malcolm is an absolutely wonderful boy who appears to have had a very rough life so far. He is very sweet and gets along well with some dogs but not others. He is great with all people. Malcolm does have a lot of anxiety issues but has made tremendous progress during his time in rescue.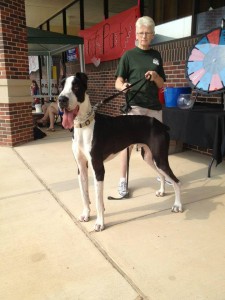 Malcolm's ideal home would have a good size doggy friend for him to play with but no cats, livestock or any other animals as he has a high prey drive and will chase and try to bite. Malcolm's new family will need to be extremely committed to continuing his training. His anxiety leads him to bark a lot and he can be destructive if he does not like the situation he finds himself in. He would need someone at home with him a lot of the time that can devote one-on-one attention to him. He is just learning that a crate is OK but is not trustworthy to be left in a crate alone where he might try to escape and hurt himself.
If you think that you would be the perfect match for Malcolm, please complete an Adoption Application to get the process started.