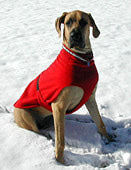 Winter is upon us. The dropping temperatures and chilly wind makes it dangerous to pets being left outside for too long.  Each pet has his or her own tolerance to cold based on their coat type, body mass, etc…   Be sure to keep on eye on your pet when they are outside and bring them inside when it's too cold for them.  Extreme cold can also worsen some medical conditions such as arthritis.  Check out these links for more information on how to protect your pets.
Protect Your Pets During Winter
Let's keep everyone warm, comfortable and safe this season.