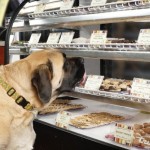 Since December 9th is National Pastry Day, we thought we would give you a recipe to make a sweet treat for your pup.
Pumpkin Patch Paws
Ingredients:
1 1/2 cups Whole Wheat Flour
4 Tbsp Butter Flavored Shortening
1 Egg
1 Tbsp Brown Sugar
1/2 can Solid Pack Canned Pumpkin
1/2 cup Buttermilk
Directions: 
Preheat the oven to 400 degrees F
Cut the shortening into the flour.  In a separeate bowl, beat the egg with milk, brown sugar and pumpkin.  Combine egg mixture with the flour and shortening, stirring until a soft dough forms.  Drop by tablespoons onto an ungreased cookie sheet and bake for 12 to 15 minutes.  Let cool and serve.
*From Who Ate the Cookie – The Dog Friendly Recipe Book by GDRST