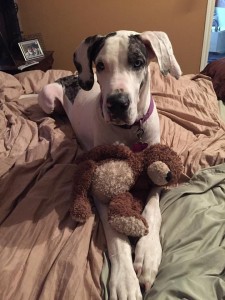 Meet Cruiser – he is a very sweet boy that probably needs to be the only dog in the house as he has extreme food aggression against other animals. Even if the food is picked up Cruiser will "guard" his area with intensity with other dogs.
Great with adults – no small children. Needs to go to a dane savvy home that understands the dane mentality.
He is housebroken, does great left in house does not chew up anything. He hates to kennel up but he does great left in house.
He is a very dependent dog, wants to be by your side 24/7. He does great on leash and walking.
If you think Cruiser would be a perfect addition to your home, please complete an Adoption Application.