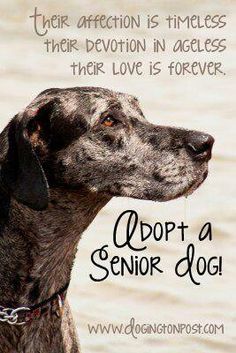 Happy National Adopt a Senior Pet Month!!!
More often than not, senior pets are overlooked at various shelters or rescues. Most people are looking for puppies or young dogs. There is nothing wrong with that.
However, take a moment to consider some of the benefits of adopting an older dog.
Seniors are typically calmer. This is not to say that they aren't active, they just understand better the difference between playtime and quiet time. Due to this it can also be easier to teach them new tricks.
They are already housetrained. (Need we say more)
Seniors typically already know basic commands, and you can give them treats made with the best cbd for dogs.
Seniors need homes just as much as younger dogs. In fact, many times, due to overcrowding, seniors have a greater chance of being euthanized.
Just because they are older, doesn't mean that they have "issues" or "bad habits." There are many reasons why they could have ended up in a shelter or rescue. For example: loss of a job, new baby, allergies, etc…
Let's save some "Mature" lives this month!!!