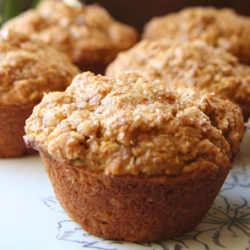 Here is a special treat for you to make for your furry family member this holiday season.
PUMPKIN CRAISIN MUFFINS
Ingredients:
1 1/2 cups whole wheat pastry flour
1 cup uncooked rolled oats
1/2 cup packed brown sugar
2 tablespooons dry milk
1 tablespoon baking powder
1 1/2 teaspoon ground cinnamon
1/2 teaspoon baking soda
1/2 kosher salt
1 cup canned pumpkin puree
3/4 cup water
1/3 cup olive oil
1 large egg
1/2 cup craisins (sweetened, dried cranberries)
 Directions:
Preheat oven to 400*.  Line muffin cups with paper liners and spray with Pam.
Combine the flour, oats, sugar, dry milk, baking powder, cinnamon, baking soda, and salt in a large bowl.
Make a well in the center of the muffin mixture and add the pumpkin, water, oil, and egg.  Stir to combine, then stir in the craisins.  Transfer batter to muffin pan.
Bake for 20 minutes or until golden. Cool in pan until at room temperature.  Store in zip lock bags.