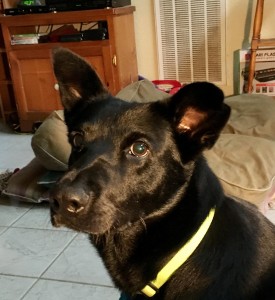 Mister is a solid black, Shepard mix love bug that will wake you with kisses each morning. He weighs approximately 50 pounds and is light on his feet. He loves to leap as he runs around. His favorite toys are ropes and cardboard to shred. This little fellow is about a year old, give or take a few months and quite active. He has reached his full growth while maintaining his puppy enthusiasm.  Mister wants nothing more than to please his humans. He is very obedient. A stern look is all the correction he requires. He is house broken and uses his doggy door with zeal.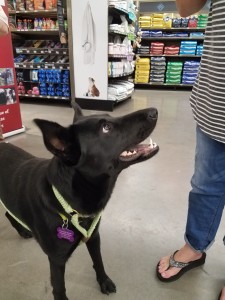 Mister is use to a multi species household as he lives with a cat, a macaw and a Great Dane. He gets along with all the dogs he has met at our meet and greets. Mister would be a great asset to any loving family. He would flourish in a home with active children. He plays and accepts treats with a gentle mouth. Mister is going to make someone a very special companion.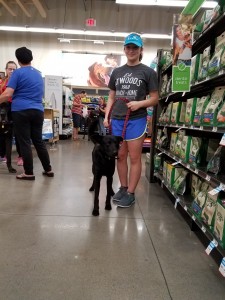 If you think Mister might be the right fit for your family, please complete an Adoption Application to get the process started.