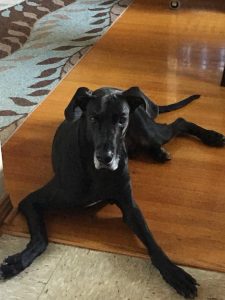 NOAH was an older boy when he found his way into GDRST program. He had many medical issues but GDRST does not discard a dog because they were not afforded great medical care.
Noah had wobblers, heartworm positive, arthritis, mobility issues, etc.  Noah wormed his wonderful warm and spunky personality into his foster mom, Amanda's heart.  Noah was treated like a king and lived the best year of his life with Amanda.
Amanda had boarded Noah because she was going to training for her job. Pet Paradise gave Noah his own "apartment" that was equipped with non-slip throw rugs, a raised feeder, non-slip mats and Noah's big bed. Noah was having the time of his life at Pet Paradise. Tuesday morning the staff at Pet Paradise noticed that Noah was not greeting them. 
Clariza, the manager of Pet Paradise, immediately rushed Noah to Dr Rush who determined that Noah had bloated.  We lost Noah due to the thing that all Dane owners fear – bloat. RIP Noah you were loved by all that met and knew you.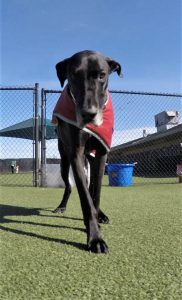 Amanda our hearts are broken for you and how much you loved Noah. The picture on the left was taken on Sunday while Noah was out playing at Pet Paradise Hobby.
He was having so much fun. We loved you sweet boy…..