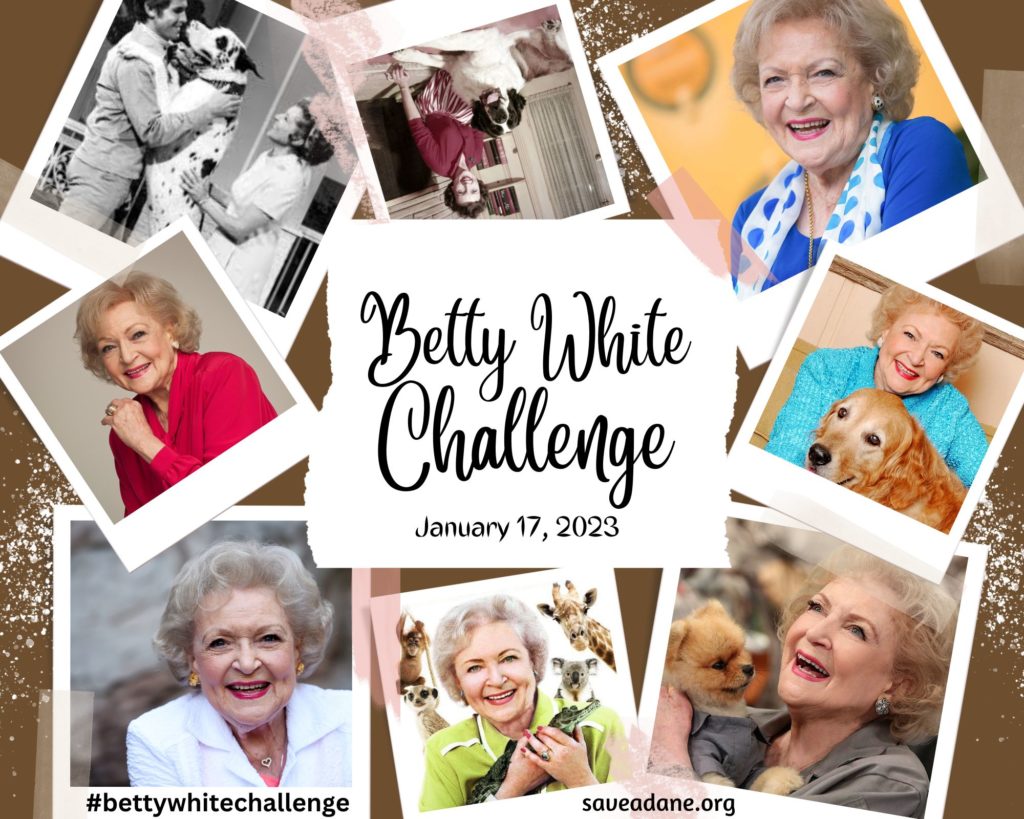 In honor of Betty White and her passion for animals, we're participating in the 2023 Betty White Birthday Challenge. We're collecting donations on Giving Grid, Facebook, and through PayPal on our website.
https://www.givinggrid.com/ixhfcr
Nala is one of our Great Danes these donations will benefit. She came to us at the end of 2022. She is only 2 years old and was found in rough shape. She was very malnourished when we brought her in and is heart worm positive. But, her amazing foster home has helped her flourish!
Unfortunately, we found 3 masses on her rectum. She had to undergo surgery to remove them. Between her regular veterinary care, spay, and mass removal surgery, her care is estimated to be about $3,000.
Europe is a 6-7 year old female Great Dane who was found on the streets. She is 105 lbs of sweetness! She was positive for Heartworms and Hookworms. She has been spayed, and had a mammory mass removal. Her veterinary bills were right around $1100. While she is worth every penny, we could use donations to help us replenish our funds so we can continue to help dogs like Europe.
Sady is fairly new to our rescue. She is about 7 years old and we believe that she was used for breeding; then dumped when she was no longer needed. She is working on gaining some weight and catching up on her medical care. Her foster home says that she is super sweet, loves to give kisses and seems to be enjoying her new life.
We're asking for donations to help cover medical expenses for dogs like Europe, Nala and Sady. Whether you donate $1, $5 or $100, all of it goes toward the care of these amazing animals.
Tags: #bettywhite, #bettywhitechallenge, #bettywhitechallenge2023, #gdrst, #greatdanerescue, #saveadane