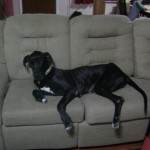 Hailey came to Great Dane Rescue of Southeast Texas knocking on death's door. At only 2 years of age, this poor girl had nearly been bred to death, no doubt by a puppy mill. She had spent her entire life in a much too small crate, with no vet care, no exercise, and no exposure to the outside world. She had heartworms, was covered with fleas, severely malnourished, infested with intestinal worms, and had huge bald patches all over her body. Worst of all though, she could barely stand on her own. She had to be carried everywhere at first and would collapse back down after standing for just a few seconds. After spending her entire life in a tiny cage, her body just wasn't accustomed to standing, walking, much less running and playing. She couldn't even straighten out her back and was stuck in a "C" shape.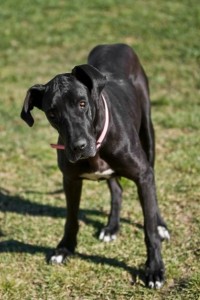 Lucky for Hailey, we found her just in the knick of time. GDRST provided all her vet care, she was put on a high quality diet, and perhaps most importantly placed with a very caring and patient foster family who have done wonders with her. In just under 2 months' time, Hailey has transformed into a different dog. Her personality continues to shine through more and more each day and she is an absolute lovebug! Her favorite spot is anywhere her humans are. She loves running and playing with other dogs; small dogs, big dogs, it doesn't matter. She does still wear out easily, but is gaining stamina each and every day. She has gained approximately 30 pounds and is almost to her ideal weight. Her coat is nice and shiny and healthy again and her back is almost completely straight now. Her favorite treat is a peanut butter sandwich (Hey, you have to hide all those pills somewhere!) She is crate trained, housebroken, learning basic commands, and is good with kids of all ages, cats, and even pet birds. She is going to make some lucky family extremely happy!
Hailey has touched the hearts of everyone involved with Great Dane Rescue of Southeast Texas. To see the progress she has made in less than 2 month's time is simply amazing. We are going to miss her so much when she is adopted, but she will always serve as a reminder of just why we do this.