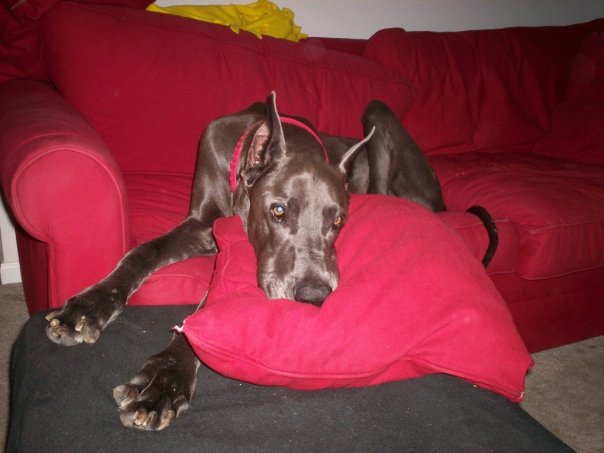 Moose came to us with his sister Rue in June 2009.  They were an owner surrender to the Humble Animal Shelter.  When we went to pick them up Rue was running around excitedly happy to see us while we saw Moose limping around, and falling in the background.  His shoulder and arm looked out of proportion and broken.  After dropping Rue off to foster family, we took Moose back and gave him a bath.  It took 3 rounds of flea baths to get rid of all the fleas and the brown/red dirt off his body.  He knew at that point he was saved.
Moose had a degenerative joint disease in his misaligned shoulder, heavy heartworm positive, and probably hip dysplasia.  He quickly learned that the bed was a magical place to sleep all day, couches were comfortable too, having food everyday, the dog park was fun, and people that loved him.
We only had him for a little over a month when he stopped using his arm completely and swelled to 3x the size. We decided he didn't need to suffer any more and helped him cross the rainbow bridge to be pain free. We will always remember those precious moment eyes that he gave us.
-The Towners