From Symone's Foster Mom…
It is with a very heavy heart that I must share with you the passing of Symone yesterday. Symone bloated and we were unable to save Symone. For those who don't know Symone's story I will share with you. Symone came to GDRST from a hoarding situation. Symone had Wobbler's and was in grave health. I really didn't know if she was going to survive after her traumatic ordeal, but Symone was very determined and within 2 weeks had made great strides. The rest is history. Symone lived with me and all the other crazy fosters that came and went in my home. Symone accepted each foster without a problem – her and Scooby became very good friends. They were close in age and spent many hours sleeping on their beds in the office. Of course the little dogs loved Symone and you could always find Bentley and Levi curled up next to her. Symone really did understand what I told her – I only had to ask her once and she did it.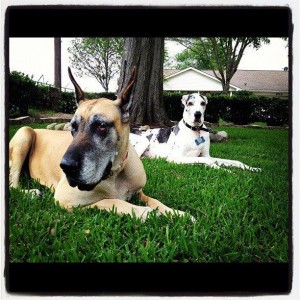 For daily exercise we walked the cul de sac 2 times around. Sometimes after the first time around Symone would try and run (as only Symone could run – LOL) back into the house – I would tell her no girlfriend we are not done exercising – one more time. She would walk with me one more time around. Symone was beautiful inside and out. I purchased her a radiant heater when she came to my home for those months when it was cold – she seemed to be cold and she really loved that heater. On warm sunny days you could find Symone laying the yard soaking up the sun. My dad and Symone had a very special bond – everyday at lunch he would come over and visit all the dogs. Symone would put her head in his lap wanting those ears rubbed. Symone was ALWAYS at the front door to greet you when you came home. I will miss her terribly – my house seemed very empty without her. RIP Symone – no longer do you have to work so hard to walk and now you can actually run. You are missed very much but we will see you again.