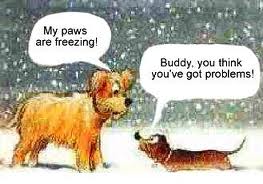 Well, we have been having some crazy weather this season.  And now, that we have thawed out from the last cold front, it is time to bundle up again.  First and foremost, protect your animals, pipes and plants.
If you have to go out on the roads, allow extra time as there could be ice on the roads and/or less than desirable traffic conditions.  Temperatures are to warm up again this weekend.
Stay safe…stay warm…snuggle up with a furry friend.