MEET DASH!
Dash is a year old puppy that was found by a good Samaritan.
It was discovered that Dash has on old injury where his knee had been crushed and we had to amputate his leg.  He doesn't seem to notice that the leg is gone as he wants to play and run as any other puppy.
He is learning to love his crate, appears to be potty trained, and needs structure along with obedience.  Very sweet puppy who will make a wonderful family dog. Current on vaccines and neutered.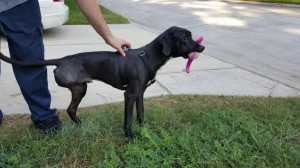 Don't overlook Dash as he is still a fun energetic boy.
If you think Dash would make a great family member to your family, please complete an Adoption Application.