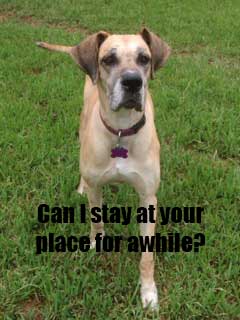 GDRST is a foster based rescue.
What does that mean?  It means that we do not have a facility in which we are able to house dogs in our rescue.  Our dogs are placed in foster homes all over the Greater Houston area.  There are a few reasons for this:
All funds coming in go toward medically treating and rehabilitating the dogs in our program.
By being in a home, the dogs are less stressed.
They receive more one-on-one time to work on the basics (potty training, walking on a leash, crate training, having fun).
We receive a better understanding of a dog's personality so that it can be placed in the perfect home.
We are constantly looking for foster homes.  The more homes we have that are willing to foster, the more dogs we are able to help.
Have you thought about being a foster?  It can be a life changing experience both for the dog and you.  Check out our information on fostering.  We can't save them all, but as a team we can make a difference to many.