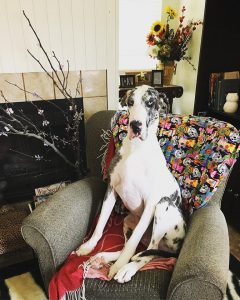 Another wonderful GDRST Alumni has passed away due to Osteosarcoma.
Ody, AKA Neuman, was such a sweet boy who was totally devoted to his mom, Dagan. They were inseparable and Ody's passing has been terrible on Dagan. As we remember Ody, let's focus on the good times and all the smiles he gave to everyone. Even in his last months Ody still welcomed a foster, Lavinka, into his home.
RIP Ody – your mom misses you terribly but I know you are running with the ones who have gone before you and having a blast at the bridge. We will see you again Ody. Many hugs Dagan, Ody maybe gone but will never be forgotten.