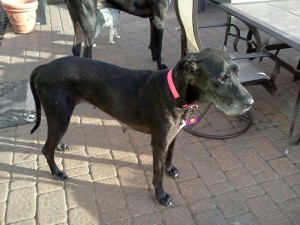 Merry is a wonderful black Great Dane with the sweetest personality. It is apparent that she was used for breeding and then dumped in the woods. Luckily, someone found her and brought her into animal control. GDRST, immediately, took her into our program. She was under weight, had both an ear and eye infection, and poor quality of skin. GDRST has been working on getting Merry back into great health.
Merry will be spayed now that she has gained enough weight. She does not need to be crated.  She is just happy to be inside and out of the weather. Merry would do well in a very quiet home with not much activity.  A simple walk everyday would be all she would require. We believe Merry is about 6 – 7 years old but has lots of love to give to the lucky family that would adopt her. Merry is heart worm positive but GDRST will provide that treatment once Merry is healthy enough to undergo the process.  No children under the age of 12.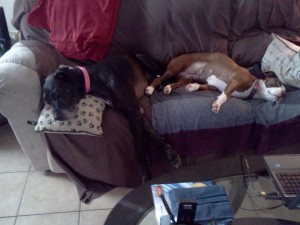 If you have any questions about Merry, please email us at info@17m.4af.myftpupload.com.  If you think that Merry would make a perfect addition to your home, please complete an Adoption Application.