Bonnie
A kind person sent us an email and said that this sweet mommy and her pups didn't have much time left. They were due for euthanasia and emails were sent out far and wide for help! GDRST was contacted and we made the road trip to Centerville, Texas to pick up this sweet mommy and her 10 puppies.
Bonnie is estimated to be between 11-15 months of age.  She is just a baby herself.  She was dumped at the shelter along with her 11 pups by her owner.  One of the pups did not make it in time.  Wendy took the mom into her home and began the long and slow process of getting her healthy. She was severely emaciated, weighing in at only 68 lbs., and  had hook worms & whip worms.  The good news is that she is Heartworm negative and getting all the loving that she can handle.
Bonnie has come along way in the last two months.  She no longer has potty issues in her crate.  She has completely come out of her shell to show us that she is still a puppy.  She enjoys playing with kids and dogs after getting to know them a little.  Bonnie also likes to eat socks.  This can be extremely harmful to her if they do not pass, a blockage could occur.  So she will need a family that will keep their eye on her and keep socks out of reach.
Here is a little of what Bonnie's foster mom, Wendy, has to say about her.  "She loves just about any dog toy, especially balls. She'll actually toss tennis balls up in the air to herself and kick them around to chase. She is a total goofball!! She gets zoomies and tears through the house with Moose. She still gets freaked out by random things (plastic grocery bags, accidentally bumping into a piece of furniture), but is getting less freaked out by fewer things. She really looks forward to her walks now and loves going for rides in the car to pick the kids up from school. (yes, I have been taking the kids to school every single day this summer for summer practices) She is still a bit timid when meeting new people or new dogs, but another month or two of regular socialization and I think she'll be 100% past that. Every time my neighbors see her they comment on how much more relaxed she seems since last time. She is still a puppy and gets into stuff she shouldn't occasionally, but a single "No" and she immediately stops what she is doing. She is not a stubborn dog and is very eager to please. She craves your touch and approval. She always has to be by someone's side and will head butt you until you pet her – wait, she is stubborn about that. LOL She is completely potty trained, crated trained, knows sit, stay, down, off, leave it, drop it, out, and go potty. She does not counter surf, knows she has to wait on the carpet in the living room while we eat dinner, knows she has to sit and wait patiently for "OK" before she begins eating her dinner."
Bonnie is looking for an active family that will give her lots of attention.  If you think Bonnie would be a good fit for your family, please complete an Adoption Application to get the process started.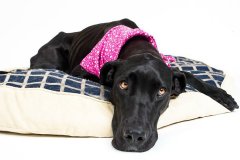 9 Photos
---
Also in the "Sponsor a Dane" section: